Nowadays going on a staycation is becoming commonplace in the Philippines. There are lots of condominiums that offer staycation at a very affordable cost. With that being said, there are too many options to choose from. Gramercy Residences ZEN ROOMS is one of the options for a staycation. It shows off a nice-looking city skyline view at night and a relaxing vibe during the day.
About Gramercy Residences Zen Rooms
Located in the city of Makati, Gramercy Residences is under the property of Zen Rooms where you can go staycation. Zen Rooms is an online booking company that helps you find a hotel or accommodation at a low price. Zen Rooms offers hotels or rooms everywhere in the Philippines and outside the country. Gramercy Residences is part of Zen Rooms which located in the metro.
In addition, Gramercy Residences provides a wide range of high-quality amenities. It has Ultra Connectivity, The Spa Reception, Sensational Signature Restaurants, Fitness Center, Director's Club, Infinity Pools, and Sun Deck.
My Experience in Gramercy Residences
My friends and I decided to go on a staycation for a weekend. We planned to celebrate one of our friends' birthday at Gramercy Residences. We stayed on the 46th floor of the building. It is said to be one of the most instagrammable staycation located in Manila.
About the Room
Our room was good enough for three persons. The room is spacious enough. There are a kitchen, a living area, a dining area, a bedroom, and a restroom. In addition, there is also a tiny balcony that is connected to the bedroom.
The bedroom
In the bedroom, there are a master bed and a cupboard. Clothes hangers, as well as the towels. are provided. The bed is too comfortable that you just want to sleep in and do not want to get out of it.
The restroom
The restroom is definitely clean. The area is wide enough and the amenities are all good.
What I just didn't like about the room is the AC was not really working properly.
The living area
You can see a television with cable, a sofa, and some chairs. There is nothing so special about the living area. But you can do Netflix and chill here. If you want to watch movies, it is possible. Moreover, you can play loud music because they also provide speakers.
The dining area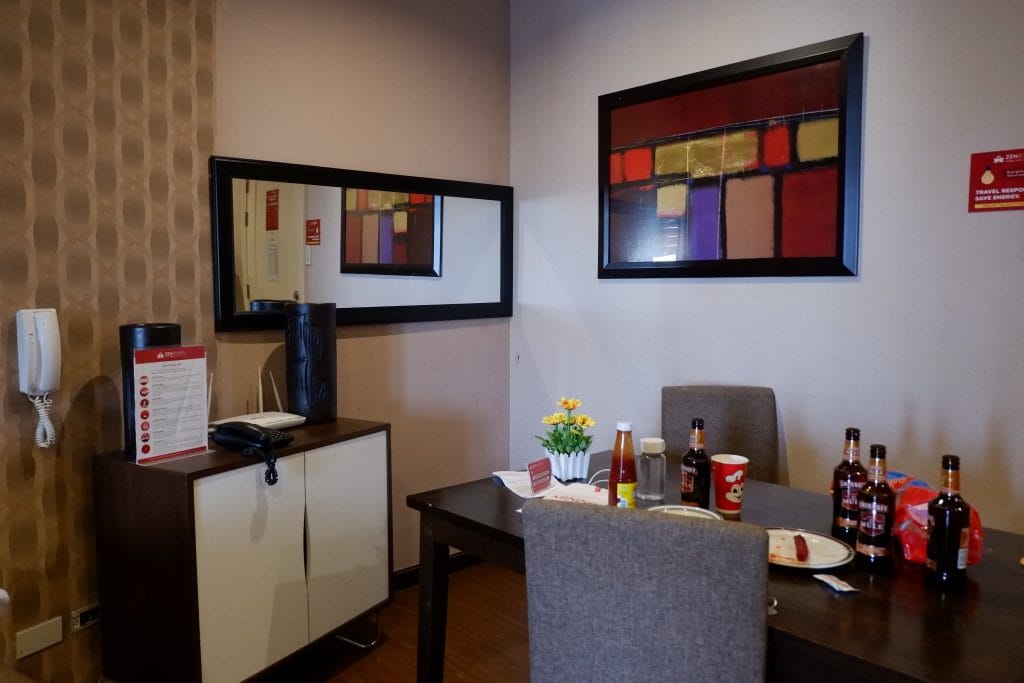 There are a table and chairs which are good for four people. The area is directly connected to the living area and the kitchen area.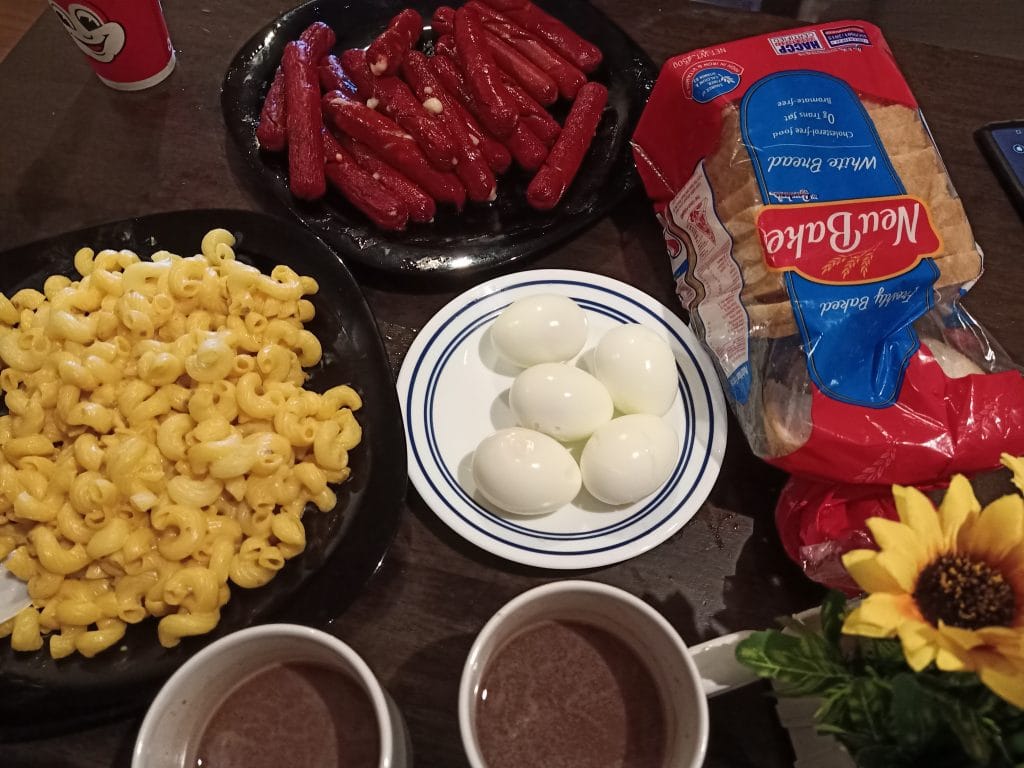 The kitchen area
This is one of the best parts of the room. Most of the kitchen tools are ready to use! You can see a microwave oven, a frying pan, a small fridge, and other equipment such a knife, dishes, cups, etc. Meaning to say, it is possible to cook inside the room which I think is convenient for everybody.
If you weren't able to bring food, you could buy some at Century City Mall. What is good at staying in Gramercy Residences are grocery stores, shopping malls, and cafes are just around the corner. It's really convenient.
The Swimming Pool
This is definitely one of the highlights of the place. In the pool area, there are three spots to go swimming. For kids and non-swimmers, there is a kiddie pool. For swimmers, there are an athlete pool and infinity pool.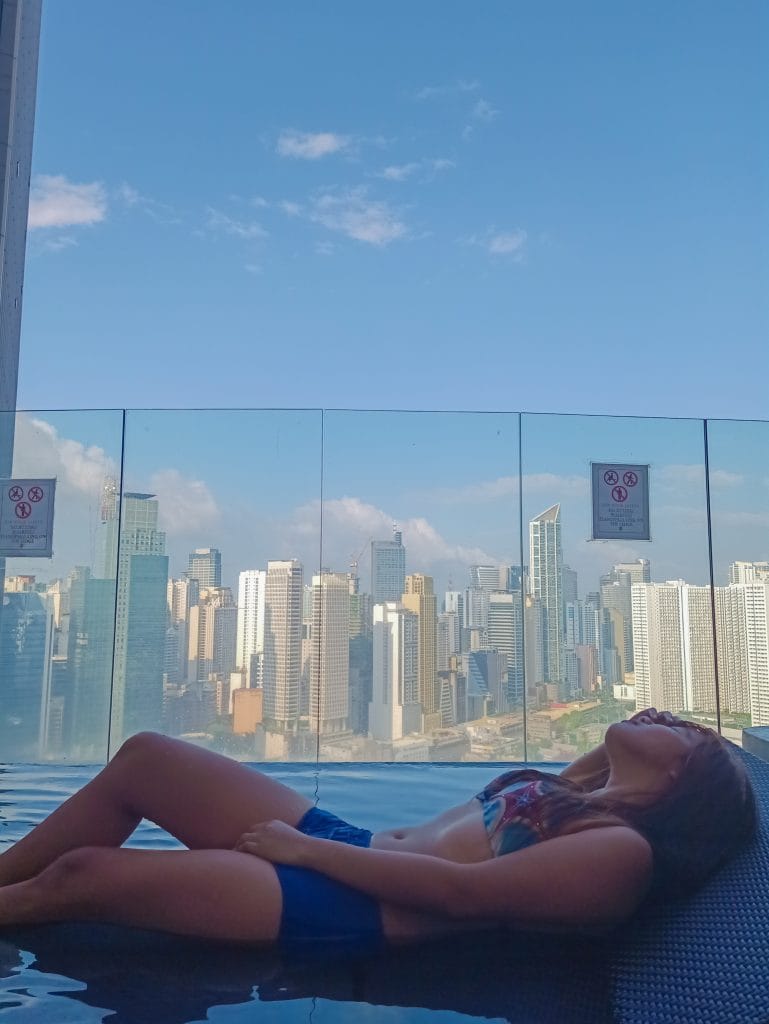 The infinity pool is such an instagrammable spot. It is best to swim here during the sunset. You can watch the stunning sunset view. Moreover, it is even more beautiful at night. It offers such an amazing city skyline view. It is cold to swim at night though.
Since we were here for a weekend, there were quite a lot of people swimming in the pool.
Other than that, you can also go for a sauna and work out at the gym for free!
The Garden
Gramercy Residences ZEN ROOMS has such an adorable garden!  It is located in the back part of the lobby. It resembles "Gardens by the Bay" in Singapore!
Overall, we had such a wonderful night! We enjoyed everything. An overnight stay was truly not enough.
Zen rooms actually offer budget-friendly hotels and accommodations not just in the Philippines, but also in other parts of Southeast Asia.
BOOK NOW AT ZEN ROOMS!
Other properties all across Southeast Asia:
Philippines
Thailand
Indonesia
Sri Lanka
Malaysia
Singapore
Hongkong
Latest Posts:
Read Next:
A half-travel blogger in the Philippines (based in Cavite) and a half-K-pop enthusiast, Ara Patria (The Adventuress) pursues her passion and love for traveling. She's been blogging for years, where she writes about her own travel experiences and promotes the wonders of the Philippines. Not only does she promote the beauty of her country, but she also focuses on promoting sustainable tourism. She dreams to travel the world and inspire other people through her own written works and captured moments with her camera.
The Adventuress is a travel blogger with a purpose. She aims to inspire other people through her personal experiences, stories, and lenses. Outside her blogging world, she is an English teacher, an SEO specialist, and TEFL/TESOL certified.
Join her adventures!