Do you have a sweet tooth? If you love eating sweets and desserts, you will definitely fall for this place! The Dessert Museum is the sweetest museum in the metro! It is the perfect place for those who are fond of sweets and desserts. Not to mention that every corner of the room is instagrammable. Surely, this Instagram-worthy museum will become part of your bucket list when in Manila!
Welcome to The Dessert Museum
The Dessert Museum welcomes you with 8 mouthwatering dessert rooms! Filled with different types of sweets, each room surely entices you and makes you crave for desserts!
The Dessert Museum is an educational museum for sweet tooths! It tells some interesting and fun facts about your favorite sweets and desserts! Have you ever wondered about the history behind your favorite dessert? Then learn more about it here!
In addition, satisfy your sweet cravings every time you enter every room! Just a friendly reminder, do not eat their furniture as it is not real!
Rooms at the Dessert Museum
The Donut Room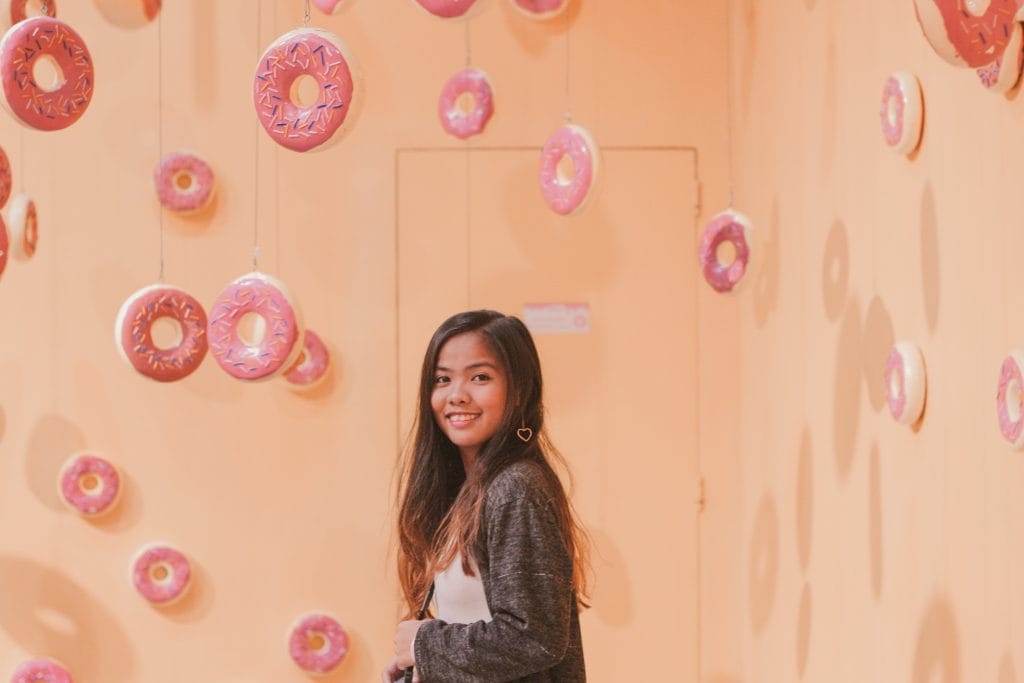 The first room that you can get to see right after the counter area. Slide down the slide and start your sweet journey from the Donut Room! Pink donuts are obviously hanging on the ceiling. They may look delicious, but they are not real! Should you watch out when taking pictures, it is because these donuts are bound to be hard. They seem to be made of wood.
Frankly speaking, I am not really into donuts because they taste too sweet for me. But this donut room made me want to eat donuts at once! I loved the color of the room. Well, it is kind of small, but I think space is enough for 10-12 people. The pink color of the donuts definitely matches the color of either room.
The Marshmallow Room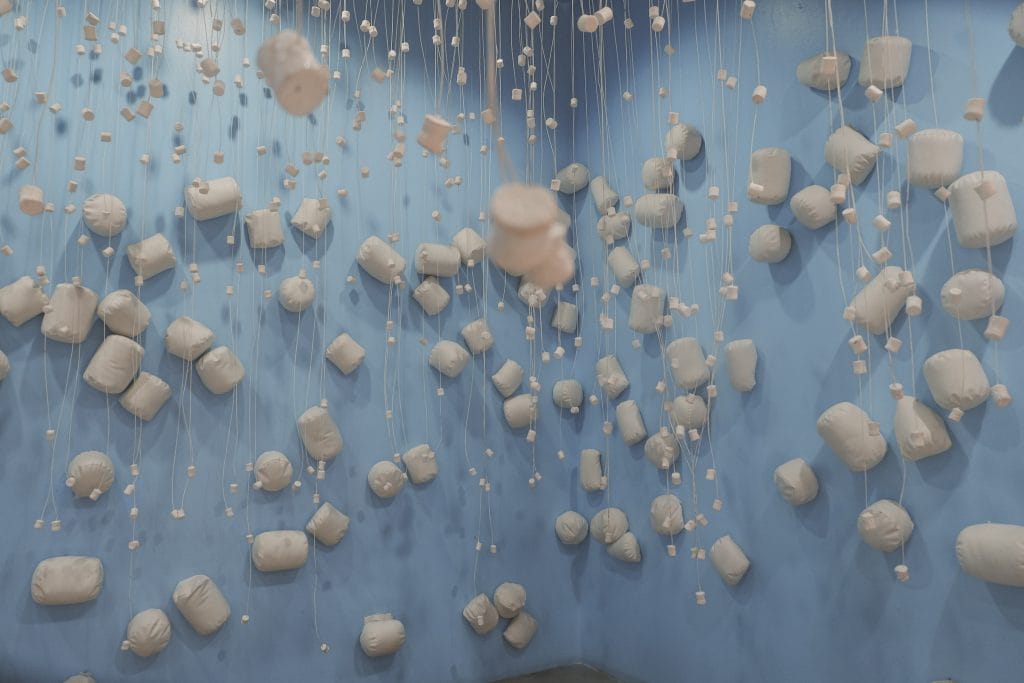 The next room after the Donut Room! Marshmallows are hanging on the ceiling. I think this room is much bigger than the Donut Room. Its wall is blue which perfectly matches the white marshmallows!
My friend and I really enjoyed taking pictures here! The room looks simple yet totally adorable! There are lots of marshmallows which are good for your background picture.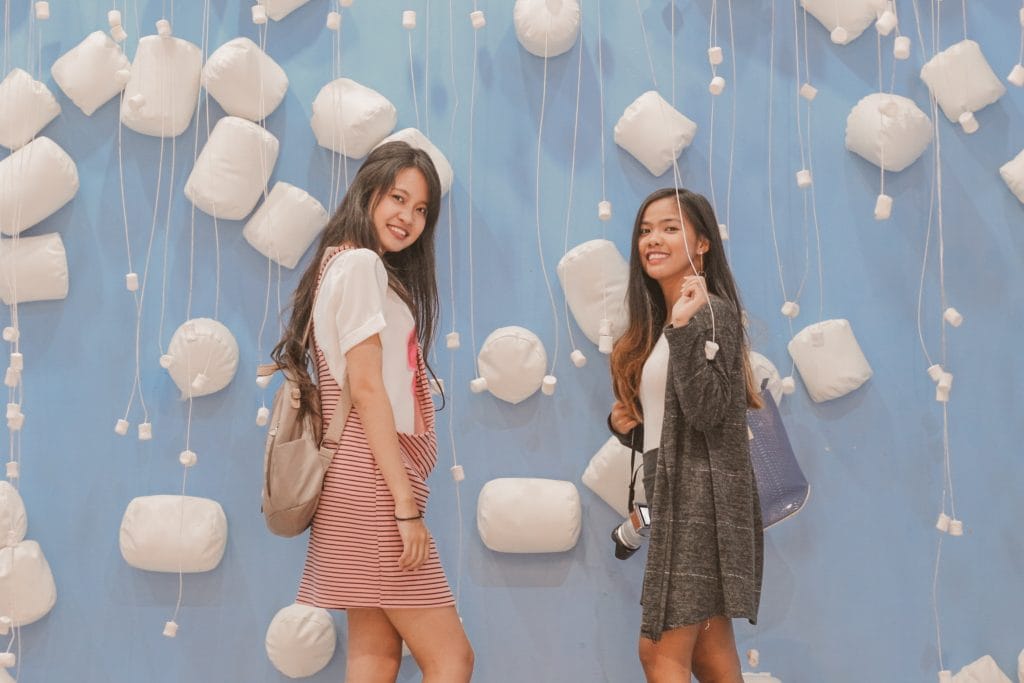 Naughty or Nice Room
The Tea Set and the Gumball rooms are located in this area. Here, you can play with the colorful seesaw and swings!
Everything inside this room is so beautiful. You can take good pictures in every corner of the room. The tea set area is so cute. Each teacup is filled with pieces of cotton. You can get inside the teacup and play with the pieces of cotton.
Moreover, what more colorful than this room? Enjoy seeing those colorful balls and candy cranes here! There is a part of this room where you can take good photographs with colorful balls!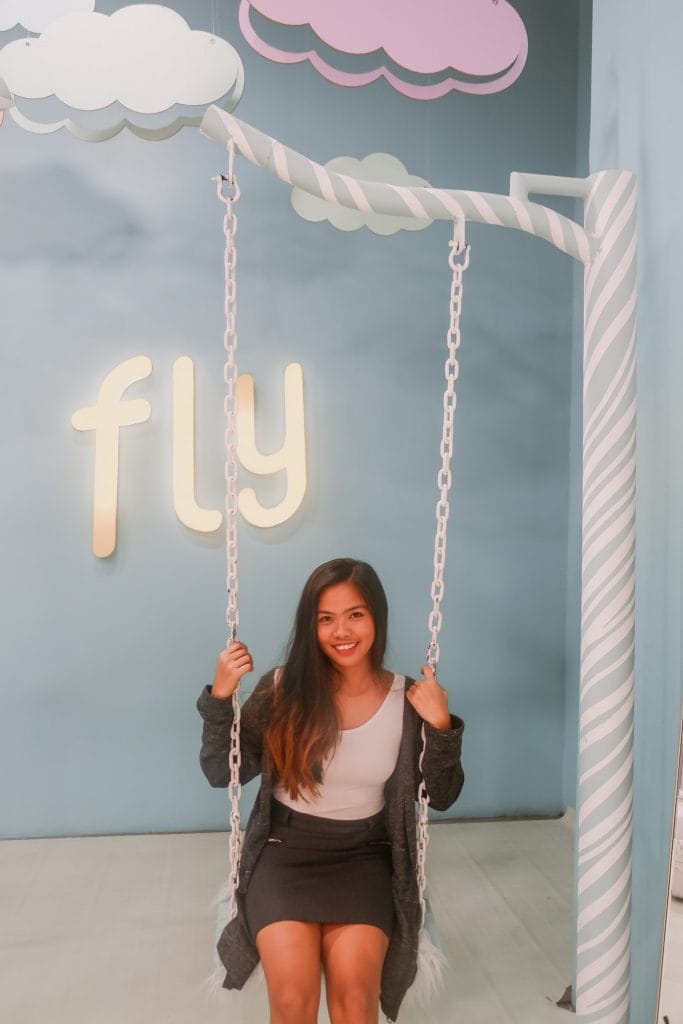 The Banana Beach Room
Obviously, this banana beach room is one of the cutest rooms at The Dessert Museum! There are hundreds of synthetic bananas that you can play with. The room has surely a beach vibe – filled with yellow bananas and other stuff. There is also a little slide where you can slide down the bananas! Who doesn't love the beach and bananas? I'm sure, you won't resist staying in this super cute room!
The Gumball Room
Consisting of gumballs with the three huge, blue bears, this little room is irresistible! Personally, I enjoyed playing with the balls and taking pictures with them. Nothing really much in this room, but this gumball definitely counts!
The Piñata Pit Room
As you enter the room, the Piñata Pit Room has its own party vibe! Its vibrant atmosphere makes me feel joyful. I feel like dancing in this room. There is a carousel, too! Unfortunately, it is impossible to ride on each animal because they look fragile. But of course, you will love taking pictures here!
I must say that Pinata Room is what I loved the most! The ambiance is so cool – with its vibrant colors make the place more interesting!
Bewitching Bakery Room
This room is next to the gumball room. It looks plain yet colorful. They have used light colors in this area. There are a huge color wheel and some old typewriters on the left side. Funny thing was, my friend and I tried using the old typewriter but we couldn't use it properly. I am familiar with it but I already forgot how to use it!
Of course, most of the sweets that you can in this room are cakes or cupcakes. Sadly, you cannot touch them. They are definitely pleasing to the eyes that make you want to taste them!
The Cake Pops
This is the last sweet room of the Dessert Museum. There are cake pops and other synthetic sweet stuff in the room.
The cutest thing would be the cake pops! You ride on them while you take pictures of yourself. Also, you can get to play basketball right here.
In addition, you can ride in a huge bowl with colorful synthetic cereals.
Make sure you will not run of ideas because everything that you see here is picture perfect! This is going to be your sweetest experience ever!
Location
G/F, S Maison Mall, Conrad Hotel Manila, Mall of Asia Complex, Pasay City
Operating Hours
10:00 AM – 10:00 PM (Last tickets sold by 8:00 PM)
Contact
Mobile: +63 917 506 2670
Facebook: The Dessert Museum
Instagram: @DessertMuseum
Twitter: @dessertmuseumph
E-mail: hello@thedessertmuseum.com
Website: www.thedessertmuseum.com
Rates in The Dessert Museum
PHP599 on weekdays
PHP699 on weekends
Inclusive of 2 hours tour of 8 dessert-themed rooms. Get up to 6 free desserts in every Room. (1-3 years old is free.)
You may book a discounted ticket here.
Latest Posts:
Read Next:
A half-travel blogger in the Philippines (based in Cavite) and a half-K-pop enthusiast, Ara Patria (The Adventuress) pursues her passion and love for traveling. She's been blogging for years, where she writes about her own travel experiences and promotes the wonders of the Philippines. Not only does she promote the beauty of her country, but she also focuses on promoting sustainable tourism. She dreams to travel the world and inspire other people through her own written works and captured moments with her camera.
The Adventuress is a travel blogger with a purpose. She aims to inspire other people through her personal experiences, stories, and lenses. Outside her blogging world, she is an English teacher, an SEO specialist, and TEFL/TESOL certified.
Join her adventures!