In the world full of beauty, charm, and adventures – everyone seeks for something that they could improve themselves for the better. As a matter of fact, there are even times when we don't feel confident about our appearance. Some people believe that skin care is one of the most important things on a daily basis. But some people think it costs too much. Good news! I have found an affordable skincare clinic in Bacoor, Cavite. Slimmers World Face and Skin Clinic is the best option for your healthier and better-looking skin!
About Slimmers World Face and Skin Clinic
Slimmers World Face and Skin Clinic provides excellent service in terms of turning your typical looking body and skin into greater ones! Slimmer World has been running for over 40 years; which operates in twenty-three branches most specifically in Metro Manila, Philippines. In the same way, its clinic – Slimmer World Face and Skin Clinic has been operating for over 20 years.
Earlier this 2019, they have opened a new branch in the South – which is located at SM Bacoor, Cavite. I believe this is such a great idea for them because Cavite is one of the nearest cities in Manila. Also, this is one of the most accessible cities if you are coming from Manila.
Slimmers World Face and Skin Clinicoffers affordable services. Imagine, you get better treatment for your skin without breaking the bank!
Before getting treated
Believe me, I am the type of person who doesn't really care about skincare. I don't usually put any type of facial cream and such. Actually, I have tried many times but I always fail to maintain that so-called skincare routine. I wash my face every morning but I usually can't do that at night. My typical days are always in front of the computer. In that case, my eyes are too much exposed to radiation so I am kind of wary to wash it at night.
The thing is, I noticed that I tend to become more focused at work than my skincare. With that being said, it is eventually not getting healthier. As I start to neglect my skin, my face turns to look bad. It has become oilier and more sensitive.
What made me decide to go for skin treatment?
I have become more prone to acne allergy. That's when I somehow started to look for some facial products and used them for weeks. The effect was kind of good but it didn't make me feel satisfied. Then, I have thought that it's time to step up the game! I want my face and skin to look better and healthier!
Fortunately, Slimmers World is just near our house, so why not try their services? In fact, I discovered it as an affordable skin care clinic!
What is the Right Face and Skin Treatment for You?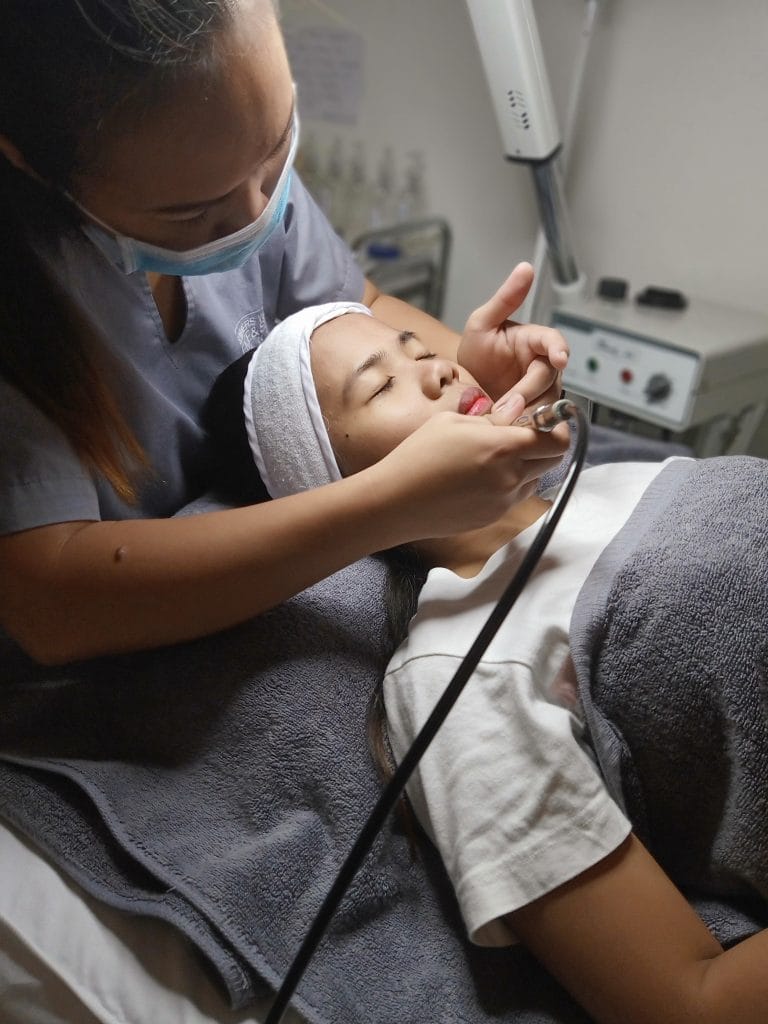 Slimmers World Face and Skin Clinic would ask you to have skin consultation first. They give importance to what kind of treatment suits you. Having to know what your skin problem really is, you get to know it better. In that way, it helps you decide what kind of treatment you should choose for your skin. This is what you will admire about them.
How important is skin consultation?
Having skin consultation first with the client is very important to them. It is strictly recommended to do it before getting any kind of treatment. It is to assure them that they could get the best results as to what they wished for. Most importantly, they highly consider contraindications and the medical history of the client. It is because the Slimmers World Face and Skin Clinic is clinical in their approach.
After having a skin consultation, they will recommend the best treatment for you. Take note it depends on your skin analysis. It is now easier for you to decide which treatment is good for your skin.
The skin consultant offered me to avail of the Skin Dynamics Program. That includes Facial Skin System and Diamond Peel. I have tried it since that is what is best for me based on my skin analysis.
The Facial Skin System
Facial Skin System is a one-hour deep cleansing treatment. This treatment removes impurities and traps dirt. In addition, it maintains clear, smooth and well-hydrated skin! It is recommended for all skin types!
The first step is of the treatment was cleansing. The dermatologist cleaned my face thoroughly and it felt really good!
Then, the next step was exfoliating. After that, the dermatologist opened the steaming machine while she pricked some of my acne on my face. It was actually kind of painful while my acne was getting pricked. It was my first time experiencing it though.
The next thing she did was the diamond ultra-peel – where she played the machine around my face. Then, I had a high-frequency facial. The high-frequency facial is used in order to cure the pricked area faster. It is also used for the closing of the pores.
In addition, it is also good for relaxation. After that, she put some moisturizer on my face. After a few seconds, she put some gel mask on my face. I had to wear it for 15 minutes.
My reaction during the process
It was totally relaxing. I really wanted to sleep during the whole process of my skin treatment! The dermatologist was so gentle and nice. She even massaged my head after the session. Surely, it was refreshing. In addition, I really loved the ambiance of the place. The soothing music was also totally good for relaxation. Overall, I really enjoyed my first skin treatment at Slimmers World Face and Skin Clinic!
Results after the treatment
After the treatment, I could see my face turning to red but I think it is just pretty normal. On my first to two days after getting treatment, I felt the itchiness on my face. It was tolerable though. Nevertheless, my face has become brighter and smoother.
It wasn't as dry and oily as it was before. Then after three days of observation, some of my acne spots had gone. Though, there were still some that could be seen on my face. It was just amazing to see such a good result just right after getting my first treatment. What more if I continued the session?
What's good?!
If you want to have your skin better and even healthier, I highly recommend you visiting Slimmers World Face and Skin Clinic. You can use my code in order to avail FREE FACIAL plus 10% discount on any treatments. Terms and Conditions apply.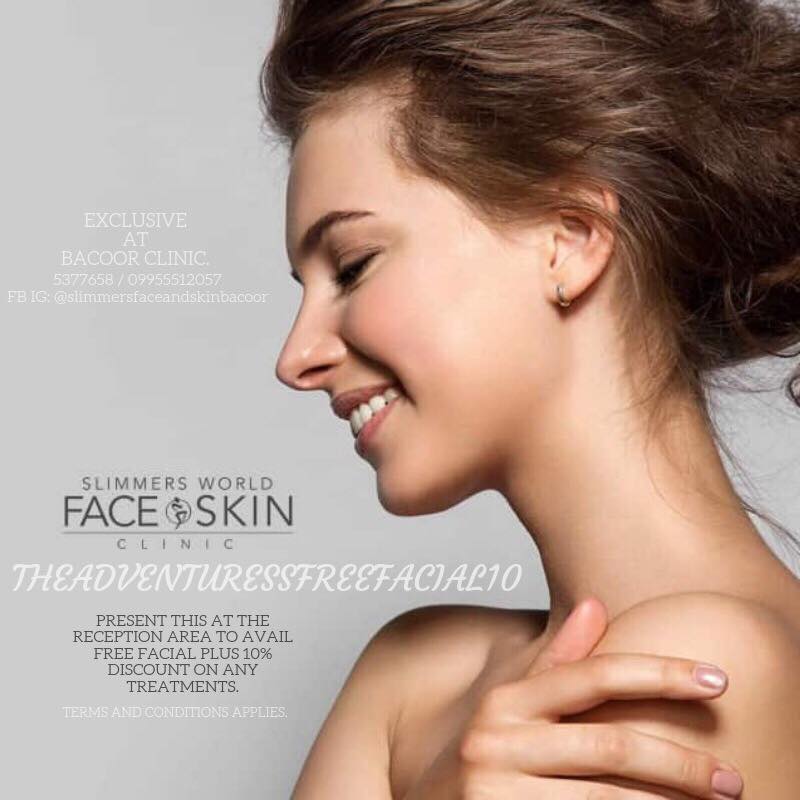 Slimmers World Face and Skin Clinic is located on the 3rd floor, SM Bacoor, Cavite. It is open during mall hours, from 10:00 AM to 9:00 PM.
Contact
Facebook: https://www.facebook.com/slimmersfaceandskinbacoor/
Instagram: https://www.instagram.com/slimmersworldbacoor/
Latest Posts:
Read Next: